Louisville Homeowners See a Surge in Home Assessments
Posted by Tony Moore on Sunday, May 22, 2022 at 9:54 PM
By Tony Moore / May 22, 2022
Comment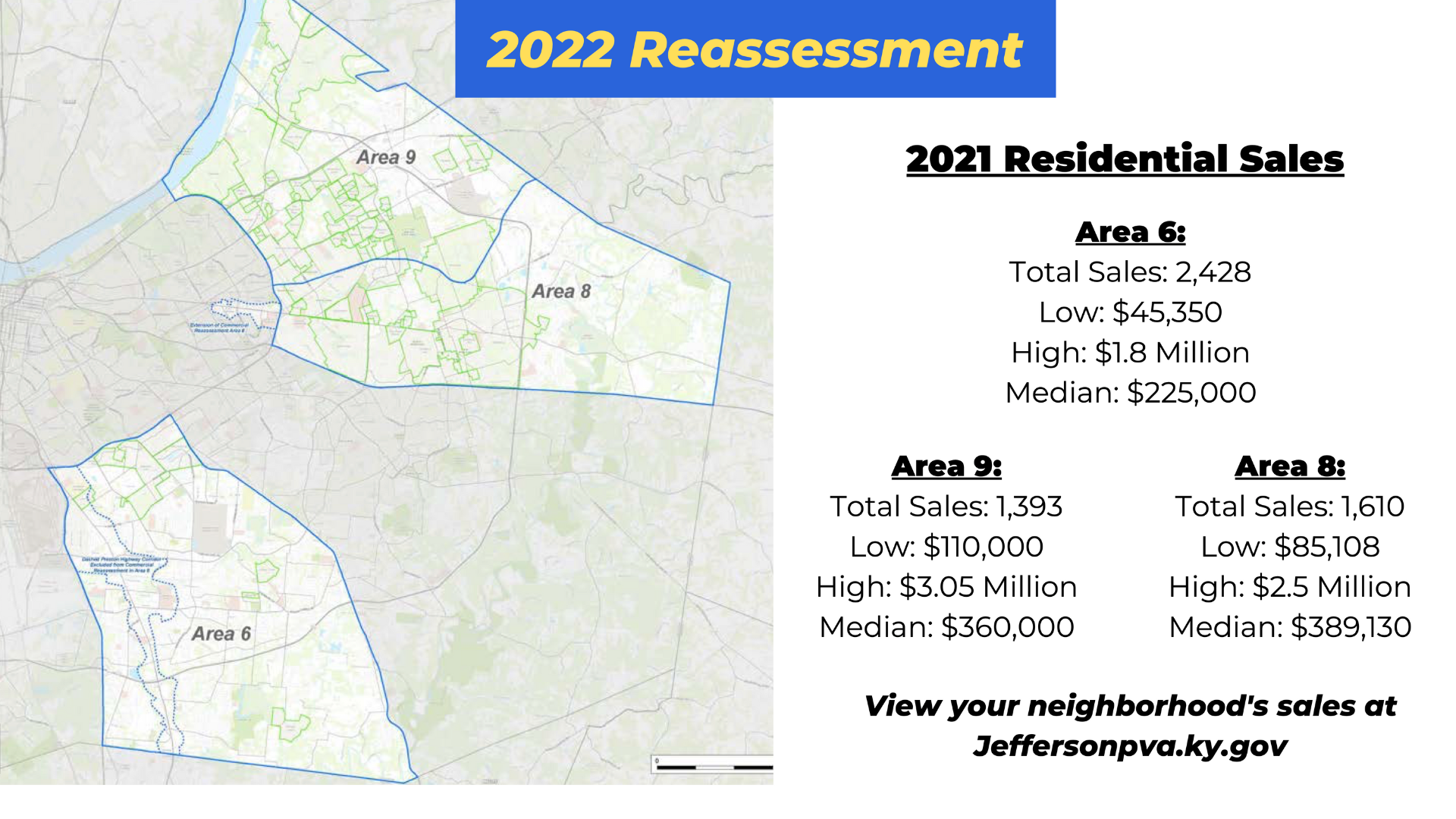 Over the last couple of years, homeowners have seen quite a surge in home price growth with sellers gaining an average of $64,000 in equity. Home sellers in the Louisville metro have also reaped the benefits of the growth in home values walking away with an average of $22,000, according to CoreLogic. Unfortunately for property owners who opted not to take advantage of the market during the recent price surge comes the huge wave of property assessment increases.
Late, last month the Jefferson County PVA sent out notices to homeowners with properties in the three areas highlighted in the image above, regarding 2022 Property Assessments, which left many property owners in disbelief. The areas that had their homes reassessed this year in 2022 saw an average increase of nearly 30% since their last assessments in 2017. In comparison, properties that were assessed last year in 2021 saw an average increase of only 14% since their prior assessment in 2016. With experts expecting home prices to continue to increase, despite rising mortgage rates, the trend of increasing property assessments is guaranteed to follow.
So, What Can You Do About It?
1. Every year Jefferson County gives its property owners a chance to appeal their assessments during the Open Inspection Period. The homeowner must initiate the appeal through the PVA's Online Conference process. Click here for more information.
2. Prepare TODAY. The tax bill will be mailed to you in early November.
3. If your property taxes are escrowed, and you pay them monthly with your mortgage; you can expect an increase in your payment. Contact your lender to see if there are any loan modification options available due to your new assessment.
4. If you know you're not financially comfortable making the new payment because of your new assessment then we recommend taking advantage of the market, selling your home, then buying something you're more comfortable with.
5. Find out what your home is worth!
For more information, contact Paige or Tony Moore.